About Us
Progressive Livestock lives up to its name, delivering progressive solutions for a diverse range of clients.
Regarded as industry leaders, the company thrives on the challenges the dynamic livestock industry delivers.
Founded in the 1990's by Greg Collins. Greg understood that getting close up and personal with key dairy farm stakeholders, learning about their unique business challenges and delivering beyond their expectations was key. Despite significant growth the same commitment to each client is fundamental to the way the company operates today.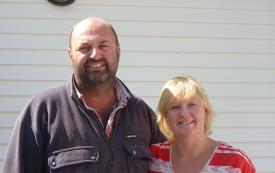 Progressive Livestock packaged together several lines of cows to give us a quality herd inside our budget when we first converted to dairy 6 years ago. They have been a valuable member of our team of professionals ever since, often thinking outside the square when it comes to making deals happen.
Evan & Maxine Chisnall, Hinds, Mid Canterbury

Looking for a Livestock Agent?
Our agents are professional and come to you.